How to Display Rocks in a Jar? (Design Ideas)
You don't have to pay top dollar for artistic home decorations. With practice, you can create some amazing rock displays using colorful rocks. Likewise, the right combination of rocks, sticks, dried flowers, and other items will look fantastic.
By putting your stylistic imprint on your displays in glass jars, you can jazz up your window sills, mantles, dressers, and other areas of your home. A nice rock display in a glass jar will look terrific on your desk at work or in the kitchen while you're cooking or cleaning.
Rock displays are a great crafting hobby because you can finish them quickly, and the pieces are affordable. You can find a ton of great deals on rocks online or in your local crafting stores. And you'll probably be surprised at just how many people are into rocks!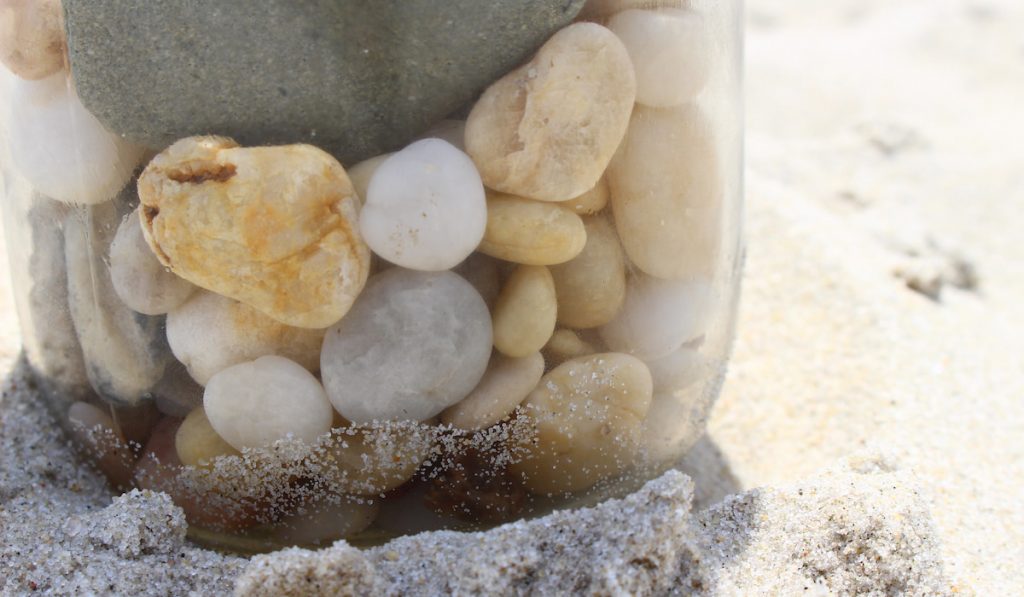 There are likely several geological festivals or fairs in your area every year where people show off their collections and sell unique rocks and crystals.
If you're thinking of trying a new hobby, designing rock displays in glass jars is something easy to do that doesn't require a lot of supplies. You can make them with your hands and the supplies you can purchase at a local grocery store or crafting store.
Here are some ideas for displaying rocks in a jar that you can try. Give it a go and get a bit creative with it for the most fun.
Choosing the Right Rocks
The type of rocks you'll choose, ultimately, will depend on style preferences, the jar you're using, budget, and what you want them for. Here are some things to consider:
Size
How big do you want your rocks to be? The smaller your glass jars are, the fewer choices you'll have when it comes to size. You'll fit fewer large rocks inside, but at the same time, you can have an easier time getting them to stand up or hold a design.
They'll touch more of the glass than smaller rocks, so there is a better chance of getting them to stay in position. Smaller rocks work wonderfully, but you'll have more of a challenge getting them to hold a pattern.
Weight
Rocks can weigh a ton! That's something to consider if you're putting a jar full of rocks on a shelf or hanging them from the ceiling. Different rocks will have different masses, so keep that in mind. Try to ensure the rocks you choose won't overwhelm whatever you're displaying them on.
Stay away from anything like particle boards or hollow shelving units. If you ever use hooks, check to make sure the hooks are capable of bearing the load.
Price
Some people are surprised at just how expensive rocks and crystals can be. You can easily spend tens of thousands of dollars on the right crystal. If you're interested in buying valuable rocks, it's certainly going to change how you approach creating a display.
You won't want them anywhere a child could grab them, or someone could accidentally bump into them and knock them on the ground. At the same time, you'll want a design style that will showcase your prized rocks.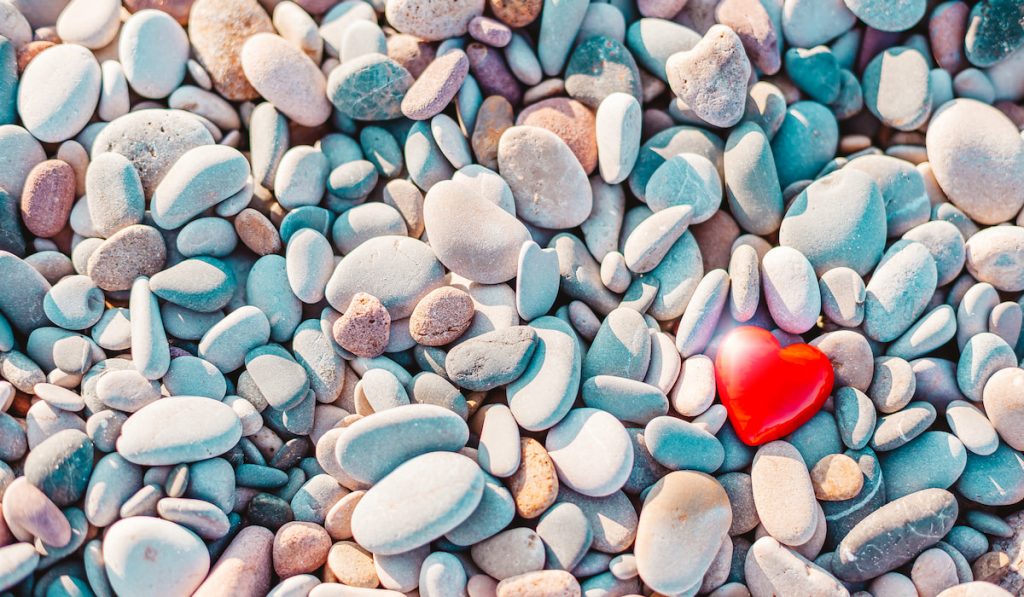 Design Ideas
Okay, so once you've got your rocks, it's time to think of designs you'll love. Some will be simple to accentuate the beauty of the rocks. Others, you can mix and match to create a scene.
Here are some good ideas to start with.
The Beach Motif
Everyone loves the beach, and in addition to some beautiful rocks, there are shells, starfish, and other items you can include in your display designs. One of the best things that you can do with your designs to help hold your smaller rocks into place is to fill them with sand in layers.
Place the rocks you want on top of the sand, fill more sand in, and add more rocks. You can create a beachy/desert vibe in your jars that will look awesome.
Forest Designs
Similar to the beach, the forest has a lot of items that will add to your rock designs. Whether it's small pieces of bark, dried leaves, twigs, moss, whatever you want, you can add it into your jars to create a mood that reminds you of being out in nature.
Toys
Make things fun and create small worlds with your rock jar designs. Imagine creating some sort of mountain landscape and then gluing small LEGO figures onto the rocks to make it look like they are hiking up the mountain.
Don't be afraid to have some fun with the designs you're making. You can also include mementos from your children or your childhood to signify important memories that you want to cherish every time you look at the jar.
Just Rocks
Of course, you can always keep things simple and include only colorful rocks in your jar designs. These can look amazing as well, and if you put them somewhere like on a kitchen window ledge where they will get plenty of direct sunlight, it can send sparkles around your room to create a magical feel in your house.
This is a great way to showcase crystals and those rocks with tiny flecks of sparkles in them.
Try Using Vintage Mason Jars
The jar you use will sometimes matter just as much as the rocks that you put in them. Vintage is always a nice look and makes your jar design look stylish and gives it a bit of flair.
You can usually find older glass jars at consignment shops or antique stores in your area. You can save the more expensive jars for your nice rocks or once you get the hang of rock designs.
If you want something more affordable, you can buy glass mason jars in bulk online. Look for a good deal and read some reviews to guarantee you're working with a reputable seller.
Once your rocks arrive, then it's time for some fun! Make some designs and let your creativity take you where it wants!
Resources